What an incredible year back to a new normal it has been. After the longest few years of uncertainty we were finally able to reopen our doors to travelers in late 2020. We are incredibly grateful for the amazing year back, our entire team has been working with great passion since the start of the year. It felt different coming back to work after those years of inactivity, but as a team, we overcame difficult situations, aimed forward and began welcoming our friends back. With even more excitement, often mentioned in reviews, our staff made guests feel right at home, despite any restrictions at that time. We were all just excited to be there, anywhere other than being told you can't be somewhere else.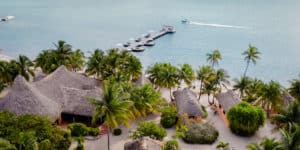 As the year progressed with better news, we built deeper relationships with our guests. All the masks came off, and we were able to be ourselves and connect with guests differently, because, I think we've missed people, the smiles and all the stories. It's often said that it's the people who make the difference in the country of Belize, the kind nature in our multicultural tropical oasis; that kindness attracts kind travelers with unique personalities who fall in love with our way of life, and we are thrilled to be hosts to incredible experiences. After an exciting year back to travel, Matachica and Gaïa Riverlodge closed its doors only temporarily to undergo some important changes to make our guest experience an even greater one. As we prepared our properties for this change, we said our goodbyes to the last of our leaving friends.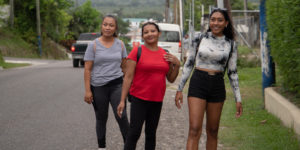 As an opportunity to celebrate and recuperate together, management graciously sponsored some experiential activities for our staff, they've done a fantastic job at making our guests' experiences delightful. A friendly group of lovely ladies who make up the housekeeping team at Matachica, primarily reside on the island yearlong. It would be great for them to explore the Maya Mountains, and experience the jungle and rivers instead of the sandy sea. A little bit of Maya temple climbing and a visit to the popular iguana sanctuary, and of course some great western cuisine before leaving back to San Pedro to meet with the rest of the team for an exciting cruise at sea.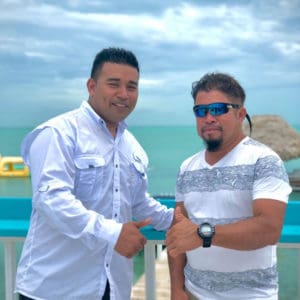 Back at Matachica the team gathered for a fun-filled day on a Catamaran cruise. Great fun and laughter were had among fellow colleagues as we reflected on what a great year it has been and look forward to making the next even more fulfilling. After a fun-filled day at sea, the team parted ways, residents of the island stayed, while others traveled back to their homeland for visits with friends and family. However, a few hard-working teammates stayed for Matachica's renovation process. In September, travel slowed at the end of a season and it was time for major improvements at both properties.
Starting at Gaïa Riverlodge, all rooms got their wooden floors reworked, including smooth sanding, sealing and fresh coats of varnish for shine and protection. Also, the wooden floor in the lobby, and dining areas were treated with care for an attractive first impression when greeted at the front desk. The famous lower deck, adored by many for its spectacular panoramic view of the forest and the Five Sisters Falls has also been rebuilt using the incredibly strong and dense Bullet Tree wood, which has great durability for exterior use. All wooden handrails, which safely guide you through the resort have been replaced, also the stone pathway leading to the waterfall and natural pools got some important concrete work carried out. The excitement to welcome guests back to Gaïa has grown exponentially as we approach our reopening date, and the entire team is proud to share their work with an extreme feeling of accomplishment knowing that their hard work results in incredible guest experiences, comfort and safety.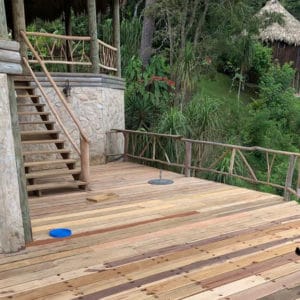 Over on the island, Matachica had some important upgrades being implemented. The wooden floor at the bar and dining area has been treated, sanded and varnished for protection along with all wooden decks that make up the patio of each beach casita. Improvements for night time illumination has been implemented with the addition of pathway and staircase lights for guided safety when roaming the resort after the sun has set. All AC units have also been extensively serviced, along with several units gaining a fresh coat of exterior paint for an uplift in their vibrancy. The thatched roofing of many casitas and the lobby has been replaced and sealed. Over in the kitchen, all appliances have been completely cleaned and serviced professionally, with a new insulation wall installed inside the cold kitchen. Moving over to the pier, a team of highly skilled carpenters were recruited to replace all support posts, an extremely daunting task, tackled with great skill by a dedicated team. As we tidy up things around the resorts, making sure everything is beautifully welcoming, we extend warm gratitude to the entire team of dedicated individuals who came together to make all imagined renovations possible.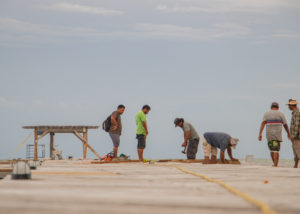 Awarded by Condé Nast Traveler, in the 2022 Reader's Choice Awards, Matachica Resort is among the top 10 resorts in all of Central America, and this achievement is a true testament to the work and dedication of our team. We hope to run with this momentum as we continue to transform our resorts into dreamscape destinations. Now we prepare to welcome back kind and smiling faces to explore and enjoy the abundant beauty of Belize, preparing our properties to be a safe and comfortable haven at the end of a day's adventure. We are excited to share with you our changes and achievements, and as Belize continues to mature into a beautiful force of nature for travel and adventure, we continue to adapt with the changes of the modern world and prepare for the future of travel. From us here at Matachica Resort and Gaïa Riverlodge, we wish our readers a safe trip to Central America, and we look forward to being the host to some unforgettable moments made in Belize; Welcome back home!